More Changes Due in
Countywide Shake - up

If changes are adopted on September the 7th a drastic change will take place to the future of west Yorkshire Fire and Rescue Service. West Yorkshire's chief fire officer is to recommend a further stage of changes to emergency cover. If released for public consultation by West Yorkshire Fire and Rescue Authority on 7 September, Mr. Pilling's proposals would see the number of full-time firefighter posts reduce by 200 but eventually deliver revenue savings of £8m.


RECOMMENDATIONS
* Rationalise emergency cover in the Keighley and Haworth areas by closing Haworth Fire Station and removing one fire appliance from Keighley
* Merge Shipley and Idle fire stations at a new site between the two
* Replace one appliance at Odsal with the command unit vehicle
* Introduce a fire response unit (FRU) at Fairweather Green to replace one fire engine
* Merge Hunslet and Morley fire stations at a two-appliance station between the two
* Merge Rothwell and Garforth at a one-appliance station between the two
* Merge Cookridge and Moortown at a one-appliance station between the two
* Remove an appliance from Stanningley
* Rationalise emergency cover in the Wakefield city area by building a replacement fire
station for Ossett closer to the city and removing one appliance from Wakefield
* Rationalise cover in the Colne Valley by closing Marsden Fire Station
* Align emergency cover in the Halifax area to risk by removing one appliance from Halifax Fire Station
David Williams, the FBU's West Yorkshire brigade secretary, has warned the cuts will slow response times.
He said: "A few seconds delay can be the difference between saving a life and failing to save it."
Fire service backs plan to close Haworth station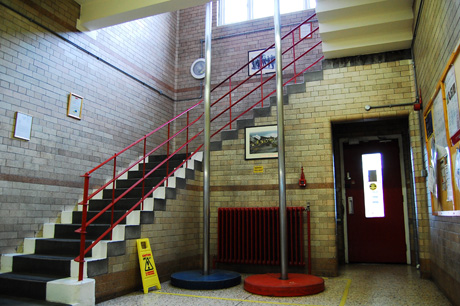 The station at Gipton, east Leeds, is among 10 in the county being closed as part of cost-cutting measures. Local people who campaigned against the closure are applying to English Heritage to have the "beautiful" 1930s building listed to protect it. Firefighters have just celebrated the station's 75th anniversary.
David Williams, from the Fire Brigades' Union, said: "To reach 75 operational years is a momentous occasion. "The station being listed would be a fitting tribute and will ensure the building will be left for the people of east Leeds. "It will be a lasting memorial for all those who have worked in the fire and rescue service."
West Yorkshire Fire Authority approved the closure of Gipton and the nine other stations - Stanks, Rawdon, Otley, Brighouse, Elland, Hemsworth, South Elmsall, Batley and Dewsbury - last December. They will be replaced with five new "super stations" at Killingbeck, Menston, Rastrick, South Kirkby and Batley Carr.
Shipley one of the stations marked for closureUnder the changes, response times to get to incidents in Idle and Thackley would increase by an estimated three minutes and 34 seconds, in the Worth Valley by three minutes and 47 seconds and for Shipley three minutes and 17 seconds, More...........
Further raised concerns over Fire Plans